The Highest Level of Eye Care Service
in Midtown Manhattan
Midtown Manhattan Eye Care At Its Finest!
Sight Improvement Center is a dynamic group of optometrists with extraordinary educational and professional credentials. We are passionate about patient care and dedicated to improving quality of life through life-changing vision procedures and treatments. We are also your Low Vision doctor in New York City, offering patients a variety of strategies and equipment to help them live a normal life again.
What Our Midtown Manhattan Patients Are Saying...
When I was searching for a new eye doctor, a neighbor recommended the Sight Improvement Center. I had my first appointment with Dr. Charles Hollander on 2/7/19. Dr. Hollander is friendly, thorough and I immediately felt at ease. He addressed all my issues and answered all my questions. I had LASIK in 2005 and shared with him that I was disappointed I now needed to use glasses for distance - at a concert, at the theater etc. Because I started a new job, I realized I should probably use them during meetings and events. When I asked Dr. Hollander for his opinion he gave me a fantastic solution. Because I do not need reading glasses he suggested using one contact lens on those special occasions at work. One eye would handle the reading and the eye with the lens would correct the distance issue. He placed a contact in my eye to demonstrate and I was amazed that it worked! I am thrilled to have a better option that had not been offered by my former doctor which has also improved my quality of life. I definitely recommend Dr. Hollander and all of the staff at the Sight Improvement Center.
- Evelyn H.
I've been a patient at Sight Improvement Center for 20 years, and wouldn't dream of going to anyone else for my vision needs. I've seen Dr. Hollander and his team for annual exams, emergency appointments, new glasses, contact refills, and much more - and have never experienced anything less than top-notch service. Every visit comes with a detailed update on my vision, as well as friendly conversation. I recommend Dr. Hollander and all the staff at Sight Improvement Center without reservation.
- Gretchen B.
As a longtime patient, I can confidently say that Dr. Hollander is an exceptional eye doctor, and a great person as well. I have wholeheartedly recommended his practice to friends & family over the years.
- M M.
If you are looking for an awesome eye doctor, you've finally found one. Dr. Hollander and his team provided an in depth eye exam by telling me details about the health of my eyes that most other doctors simply gloss over. I'd definitely recommend coming here if you can get an appointment.
- Thomas B.
I love my optometrist Dr Hollander, the opticians, and office staff at Sight Improvement Center. Knowledgeable, thorough and friendly, their service is impeccable, whether it's regular checkups for eyeglasses, contacts, glaucoma, etc. I trust them implicitly and rely on their expertise. They also have a great selection of glasses and take my vision insurance. I have been coming here for years. Recommend them highly!
- Branka R.
Dr. Jurman is very thorough. She is also very personable and takes the time explain things in details. The receptionist Sheila was very friendly and helpful. I always have a wonderful experience when I have my yearly visit. I have been going to Sight Improvements for about 6 years now and I have recommended it to many of my staff members. Also the ladies who help with the frame selection are top notch. Overall an awesome experience.
- Yanoch A.
I've been going to Sight Improvement Center for many years for all my eyecare needs. Dr. Hollander and his team are extremely competent and take the time to answer all my questions and satisfy my concerns. Diane and Sheri in the Frames Area are great! They patiently help me pick out the best glasses. Most important, I trust these professionals to take care of my kids as well.
- Max K.
After a comprehensive eye exam, we'll work together with you in our New York City Eye Care clinic, to figure out the best strategies and low vision equipment for your personal requirements.
Our warm, friendly and professional staff will assist in making the proper choice in frame style, shape and size for your family's prescription and visual needs.
Keratoconus is a progressive eye disease in which the cornea thins and bulges into a cone-like shape, losing its roundness. See more about it here:
We offer Bifocal and Multifocal Contact Lenses, Gas Permeable (GP) Contact Lenses, Contact Lenses for the "Hard-to-Fit" Patient, and Toric Contact Lenses for Astigmatism.
Feb 07, 2019
It's February and that means we're smack in the middle of winter, which is also the middle of the school year. It's the season when kids fervently hope for snow days and parents hope they don't happen. As we head towards the second half of the school year, you've probably...
Why do I Need Regular Eye Exam?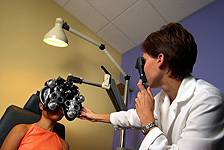 While most people schedule regular check-ups with doctors and dentists, many are not aware of the importance of an annual visit to the eye doctor. Regular eye exams can be the key to the early detection and treatment of emerging vision problems, eye diseases, and a number of other health issues. When you come to a Midtown Manhattan optometrist at Sight Improvement Center for an eye exam, you will receive comprehensive service designed to find and correct any vision or eye issue. Don't take good vision for granted, schedule an appointment today!