The Highest Level of Eye Care Service
in Midtown Manhattan
Midtown Manhattan Eye Care At Its Finest!
Sight Improvement Center is a dynamic group of optometrists with extraordinary educational and professional credentials. We are passionate about patient care and dedicated to improving quality of life through life-changing vision procedures and treatments. We are also your Low Vision doctor in New York City, offering patients a variety of strategies and equipment to help them live a normal life again.
What Our Midtown Manhattan Patients Are Saying...
I love my optometrist Dr Hollander, the opticians, and office staff at Sight Improvement Center. Knowledgeable, thorough and friendly, their service is impeccable, whether it's regular checkups for eyeglasses, contacts, glaucoma, etc. I trust them implicitly and rely on their expertise. They also have a great selection of glasses and take my vision insurance. I have been coming here for years. Recommend them highly!
- Branka R.
Dr. Jurman is very thorough. She is also very personable and takes the time explain things in details. The receptionist Sheila was very friendly and helpful. I always have a wonderful experience when I have my yearly visit. I have been going to Sight Improvements for about 6 years now and I have recommended it to many of my staff members. Also the ladies who help with the frame selection are top notch. Overall an awesome experience.
- Yanoch A.
I've been going to Sight Improvement Center for many years for all my eyecare needs. Dr. Hollander and his team are extremely competent and take the time to answer all my questions and satisfy my concerns. Diane and Sheri in the Frames Area are great! They patiently help me pick out the best glasses. Most important, I trust these professionals to take care of my kids as well.
- Max K.
All of my experiences at Sight improvement Center have been positive. I have been coming there since the late 1970s. The ladies at the front desk are efficient and courteous, Dr. Thomas is professional and knowledgeable and Diane is a delight and takes her time to help one pick out frames, etc. Sherri is great, too. It is rare in this hurried lifestyle to receive such good service. Those with negative reviews, well, the glass must always be half empty.
- Paul K.
Dr Thomas the very best. Have been at Sight Improvement since 1979. Great doctors.
- leo m.
It may be a little bit of a wait (like 15-20 minutes after the appointment)... it is in Manhattan after all, and when you have the best doctor around, you expect everyone lining up. The DR is very well qualified, extremely patient and takes good care of his clients. You have to remember, that if you are seen straight away, it means 1) the doctor is not busy or 2) the doctor is treating patients like cattle pushing them out the door. The queue works as expected, no one is getting priority over the other and everyone is treated equitably and fairly. The equipment they have is modern, the place is tidy and there are processes in place to increase the efficiency of the environment giving a good indication of the maturity model and experience of the person running the show. Very impressed!
- Richard S.
Hands down the best eye doctor I've even been to. I've been twice now and Dr. Jurman is awesome. Very knowledgeable and friendly. The optical staff is great as well. Very friendly in helping you find a frame that you like but also fits well. I especially like the personal attention through this proces. They don't just dump you in the store with everyone else but sign you in with someone from the optical staff. Just the right amount of personal attention and assistance without making you feel pressured to buy something. Only downside is frames and lenses tend to be on the expensive side (even the cheaper ones). If you don't have good insurance it could get pricey.
- Stephen D.
After a comprehensive eye exam, we'll work together with you in our New York City Eye Care clinic, to figure out the best strategies and low vision equipment for your personal requirements.
Our warm, friendly and professional staff will assist in making the proper choice in frame style, shape and size for your family's prescription and visual needs.
Keratoconus is a progressive eye disease in which the cornea thins and bulges into a cone-like shape, losing its roundness. See more about it here:
We offer Bifocal and Multifocal Contact Lenses, Gas Permeable (GP) Contact Lenses, Contact Lenses for the "Hard-to-Fit" Patient, and Toric Contact Lenses for Astigmatism.
Jan 17, 2019
Each year during the month of January we recognize World Braille Day which gives us the opportunity to take a moment and appreciate the incredible gift that Braille has given to those who are blind or suffer from vision loss. What is Braille? Braille is a tactile representation of letters...
Why do I Need Regular Eye Exam?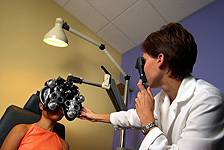 While most people schedule regular check-ups with doctors and dentists, many are not aware of the importance of an annual visit to the eye doctor. Regular eye exams can be the key to the early detection and treatment of emerging vision problems, eye diseases, and a number of other health issues. When you come to a Midtown Manhattan optometrist at Sight Improvement Center for an eye exam, you will receive comprehensive service designed to find and correct any vision or eye issue. Don't take good vision for granted, schedule an appointment today!